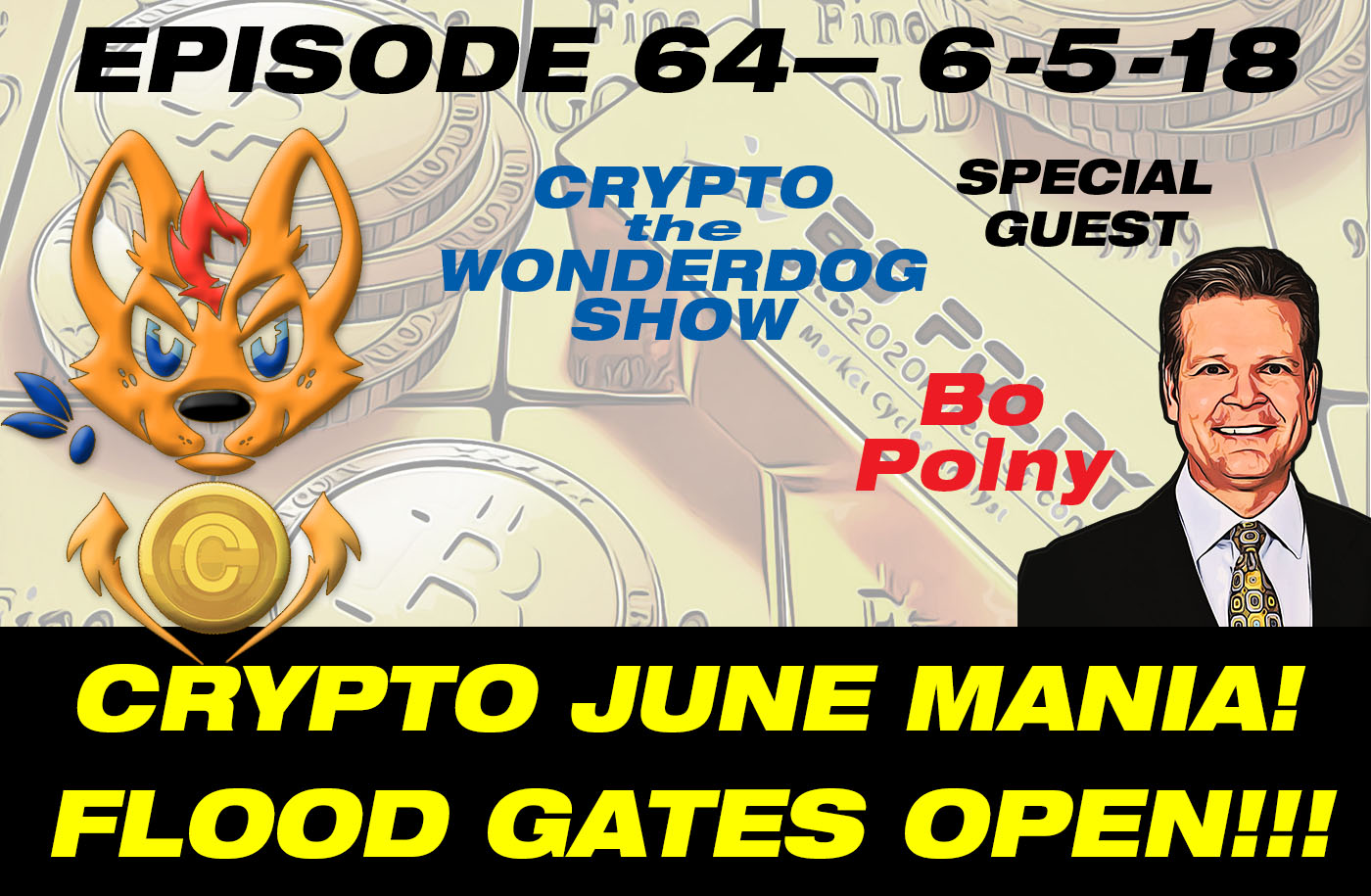 64 - CRYPTO June MANIA - Flood Gates Open! with Bo Polny
Mr. Polny is an experienced analysis of TIME and specialists in the Gold, Silver and
the stock markets. He has successfully TIMED the 2011 $1900 Gold & $49 Silver
cycle tops, China's April 2015 Stock Market top, the December 3, 2015 final gold
bottom at $1045, the December 15, 2016 gold bottom at $1124 while the US Dollar
was making its FINAL TOP at 103.50 and most recently the bitcoin and US stock
market tops in January 26, 2018.
He currently is forecastng a Stock Market PLUNGE in June 2018 that in turn will
cause bitcoin, cryptocurrencies, gold and Silver to react violently upwards into new
all‐time highs this year 2018. Fortunes are about to be lost by those unprepared;
while made by those prepared!
GOLD2020FORECAST.COM
PO Box 11598
Newport Beach, CA
92658
Email: GOLD2020forecast@aol.com
website:   https://www.gold2020forecast.com/
iTUNES: https://itunes.apple.com/us/podcast/crypto-the-wonder-dog/id1342426584#
YouTube - https://www.youtube.com/c/CryptoTheWonderDog
SPOTIFY: https://open.spotify.com/show/1SaoepNZDYX75CeN3RouFD
PODCAST PAGE - http://cryptocent.podbean.com
WEB - Cryptothewonderdog.com
TWITTER - https://twitter.com/CryptoCTWD
FACEBOOK - https://www.facebook.com/CryptoTheWonderDog/
INSTAGRAM: @cryptothewonderdog
BLOG: https://cryptothewonderdog.blogspot.com
FEED: http://cryptocent.podbean.com/feed/
LinkedIn Group: https://www.linkedin.com/groups/13579876
Telegram: https://t.me/joinchat/HXYr-1E8iFne2LLgfEwe2A
Crypto the Wonder Dog is now looking for the TRUTH when it comes to Cryptocurrencies and BITCOIN, Digital Currency... What to look out for, where to buy, trade, invest, loan, mine.... OMG!! Too much for 1 person to do this alone. I want t start a channel where we work together to learn as possible without getting burned. Please contribute what info you have.