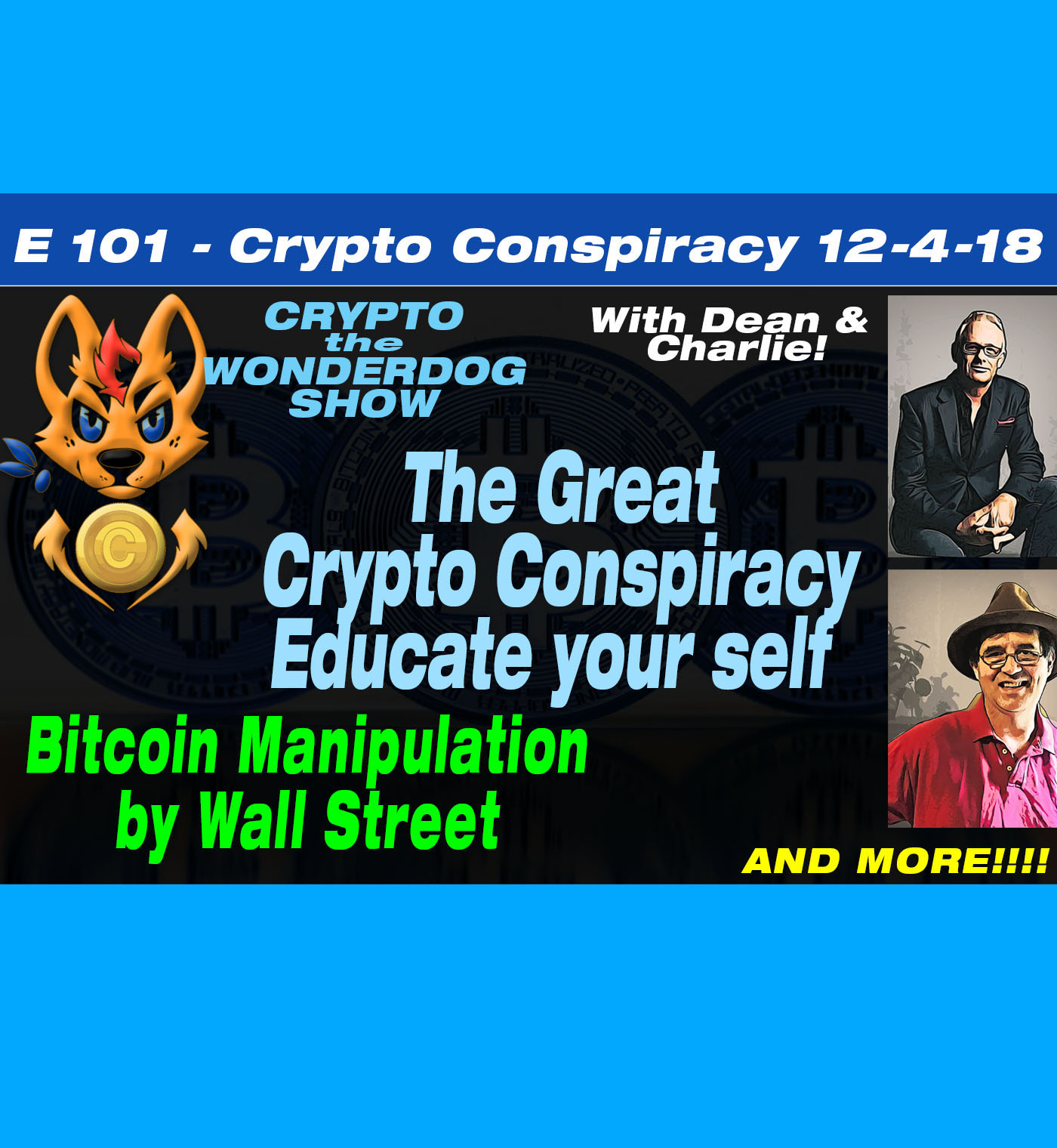 Bitcoin Manipulation by Wall Street - The Great Crypto Conspiracy (PROOF) 2018 
Charlie and Dean on The Great Crypto Conspiracy - Educate your self so Big Guys don't play with you!
E101 
Wall Street manipulating BTC's price to buy it cheaper
An excerpt from Glenn Beck Discusses The Great Bitcoin Cryptocurrency Conspiracy 2018 points out that large Wall Street companies may be manipulating the price of Bitcoin in order to buy it cheaper.
The first point made explains how Jamie Dimon, CEO of JPMorgan Chase, said: "Bitcoin is a fraud" on September 12 and threatened to fire any of his traders buying BTC. This resulted in the price of BTC falling 24%. That following weekend it became known that the largest buyer of a Bitcoin fund was Morgan Stanley and JPMorgan.
Then on January 24th, George Soros was quoted saying "Bitcoin is a bubble." A short while later Bitcoin falls 44%. Two months later it became public knowledge that he has approval to buy cryptocurrency.
On February 7, Goldman Sachs stated that "Most cryptocurrencies will crash to zero." It was around this time that Goldman Sachs denied setting up a crypto trading desk. Once BTC fell 27%, Goldman Sachs announced a new $400 million trading desk.  
What's interesting, Beck's guest, Teeka Tiwari states that all this happened around the same time, stating that while he can't prove collusion, "If it walks like a duck, quacks like a duck, it's probably a duck."
2017 was the year Bitcoin and cryptocurrency gained the mainstream media attention after cryptocurrencies captured and secured a market cap of $100 Billion.
Bitcoin isn't about speculation, and it isn't a 'get rich quick' scheme where you can be a millionaire overnight. That's where most of the people take it the wrong way and end up losing 'both money or cryptos either way'. Of course that's a major reason why it stays above the moving average most of the time. People use it in a way to 'earn' more money, through trading, gambling, speculation and other things. And that's what is gaining media attention in a negative way.
Wallstreet and Banks are Manipulating Bitcoin Prices With the help of Mainstream Media and Duping Poor investors: Conspiracy Theorists
https://www.youtube.com/watch?v=vOHwvsgO7F0
cryptocurrency
dash
litecoin
bitcoin cash
bitcoin to usd
bitconnect
btc
ripple
what is bitcoin
localbitcoins
биткоин
btc price
mercado bitcoin
bitcoin price usd
invaluable
iota
litecoin price
onecoin
ripple price
ethereum mining
monero
stratosphere
bitcoin chart
bitcoin price chart
dash diet
stellar
zcash
bitcoin usd
cryptocurrency market
криптовалюта
1 bitcoin
bitcoin calculator
bitcoin hoje
bitcoin rate
bitcoin stock
bitcoin to dollar
cryptocurrency news
ethereum wallet
1 bitcoin to usd
bitcoin converter
bitcoin investment
bitcoin kaufen
bitcoin mining calculator
bitcoin price today
ripple coin
altcoin trader
bitcoin atm
bitcoin euro
bitcoin exchange
bitcoin faucet
bitcoin price live
bitcoin to euro
bitcoin trading
bitmaker
bonus bitcoin
btc miner
bytecoin
earn bitcoin
how to get bitcoins
ripple xrp