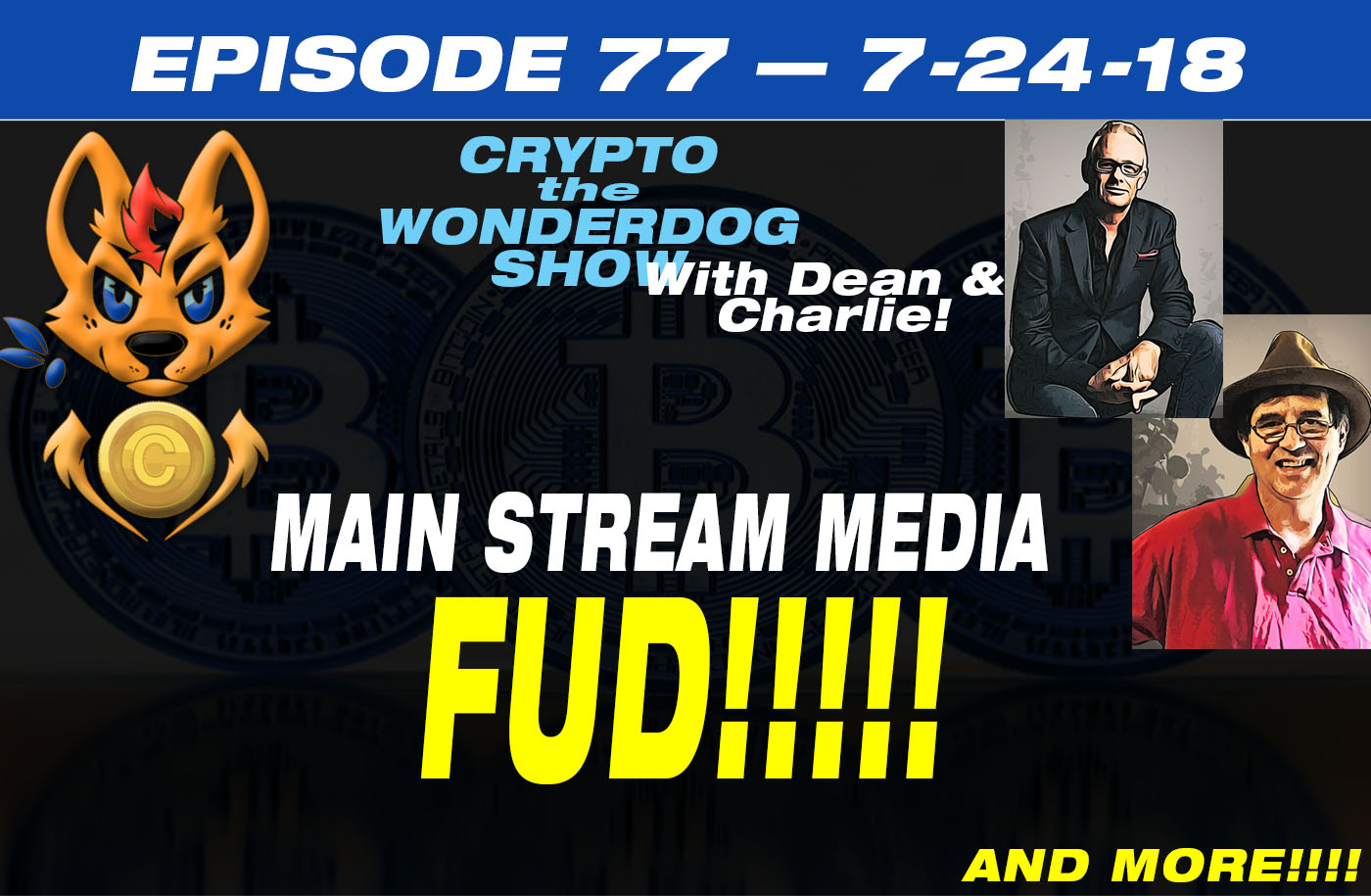 E 77 - Dean and Charlie talk about  Main Stream Media FUD 7-23-18
The theme of this show Main Stream FUD, of all kinds. We'll start off with how the media disparages blockchain and cryptocurrencies.
The two scared cows of American culture have been given a pass, and that's proving to be a huge disservice to most of us. 
Maybe we should be paying more attention to what Walter Lippman said about the media. "News and truth are not the same thing and must be clearly distinguished."
1. Walter Lippman: Wikipedia
2. The Rise of Cryptocurrency Ponzi Schemes - The Atlantic
http://www.theatlantic.com-2017/05
3. Why Are So Many ICOs Failing / Coin Central
But is the media being as skeptical and critical of the stock market? Let's first look at what the media presents regarding that organization.
4. Dow Jones Industrial Average (DJIA) - Investopedia
Thirty significant stocks trade on the New York Stock Exchange and Nasdaq. It's considered a proxy for the U. S. economy. General Electric was the last corporation that was on the Dow from it's inception in 1896. GE has been delisted,
5. Stock prices are based primarily on corporate profits. Dividends come from Retained Earnings.
6. Dow Jones - 10 Year Daily Chart / Macro Trends
Macrotrends - dow-jones-indsutrial-average
It's been exploding.
7. Corporate Profits -Economic Data Series/FRED/St. Louis Fed
St. Louis Fed-frred-tags series
8.  America's Putrid Wage Growth - The Week
The Week-articles-american-putrid-wage-growth
While corporation's profits continue to increase, those results aren't premised on Americans getting higher wages, which allow them to buy more stuff and services. It's all predicated on debt, baby!!!!
7. FRED -Total Consumer Credit Owned and Securitized. Outstanding
Another huge lie is how a college degree is worth a $1 million more than if you hadn't attended.
8. A College Degree Is Worth $1 Million - Market Watch
MarketWatch: Stock Market News - Financial News
9. Youtube _Education Connection Commercial Jingle
In my state of Oregon, the legislature has as it's goal of seeing 40% of Oregonians with a college degree, and 40% of its citizens with an Associates degree, or a degree from a Community College. Oregon doesn't come close to fully funding either it's two or four year colleges, so that means loans and debt will need to be used to fulfill that idiocy. And this is true for most states across the country, they push their hs grads to attend some post secondary education. That's why all of this yapping about making a $1 million more over the course of your working life. But the truth isn't to be found with what we're told we must do.
10. Study: Looming Student Loan Default Crisis Will Be Worse Than Projected.
Diverse Issues In Higher Education > article
11. More Than Half of Student Loans Are Now in Deferral or Delinquent - Forbes
Forbes-sites-2013/02/01
12. The Future of Work is Low-Wage Health Care Jobs - Vox
13. How Many Jobs Really Require College? - Devin Helton
Devin Helton-how-many-jobs-require-college
USAAmerica has done nothing to educate citizens regarding blockchain, while other nations have. Dean can go on a rant on all that has been posted....
https://www.google.com/amp/s/www.forbes.com/sites/moneybuilder/2013/02/01/alarming-number-of-student-loans-are-delinquent/amp/
http://diverseeducation.com/article/108217/
https://m.youtube.com/watch?v=WYS5NtRXlZQ#dialog
https://www.google.com/amp/s/www.marketwatch.com/amp/story/guid/08FB2714-F4E5-11E4-A754-FA6DFF672F67
https://www.google.com/amp/s/coincentral.com/why-are-so-many-icos-failing/amp/
https://www.google.com/amp/s/www.theatlantic.com/amp/article/528624/
https://en.m.wikipedia.org/wiki/Walter_Lippmann