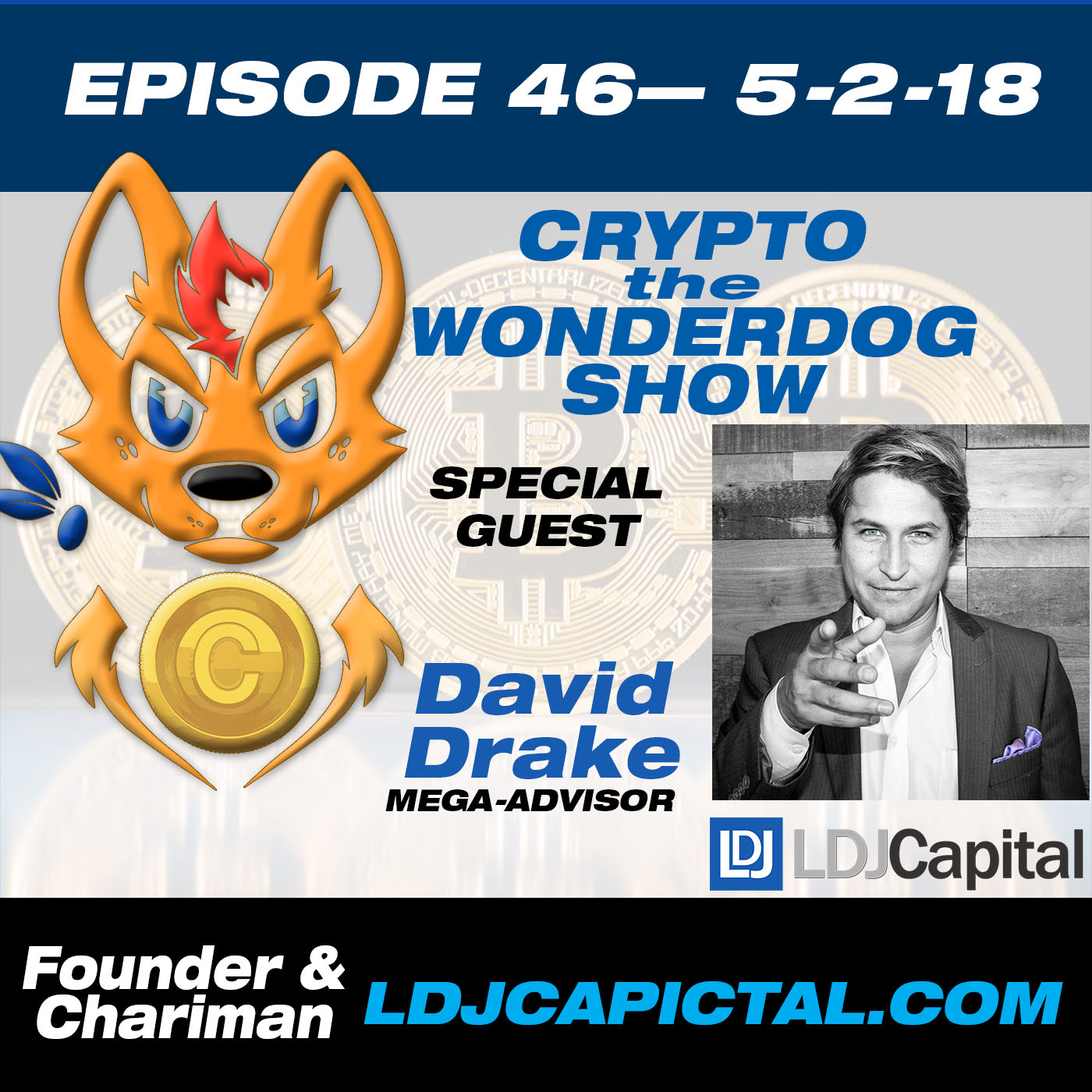 E46 - Mega-Advisor and Crypto-Rock Star David Drake of LDJ Capital
David Drake
Chairman at LDJ Capital
David Drake, through his family office LDJ Capital, has acted as GP and LP investor with his partners in fund-of-funds, realty funds, venture capital funds, and hedge funds. Drake's investments currently have 50+ global directors that maintain relations with institutions and family offices with access to over a trillion in assets. 
Drake, through LDJ Capital, manages and co-invests in alternative assets with the top 30 family offices out of his 5,000 family office and institutional investor reach. These top 30 are 40% from Asia, 20% from Europe, 20% from the Americas, and 20% from the Middle East. 
Drake's access with 100,000 investors is maintained through his media asset, The Soho Loft Media Group, which has produced & sponsored over 1500+ finance conferences since 2002 like the events with institutional media leader Thomson Reuters and with sponsors from NASDAQ, NYSE, KKR, and the Carlyle Group. 
LDJ Special Situations partners have invested $100 Million in Alibaba and Palantir.
LDJ Real Estate strategy is set to acquire Class A core rental properties and hotels.
Drake is a digital automation advocate for private equity as he lobbied the US Congress on the JOBS Act since 2011. He represented the US Commerce Department at the EU Commission in Brussels and Rome in 2012, was invited to the White House Champions of Change ceremony in Washington, D.C., and, was a speaker at the UK Parliament in 2013.
Chairman
LDJ Capital
Chairman
LDJ Cayman Fund Ltd.
Board Advisor
Vanig
Blockchain Board Advisor
Global Crypto Offering Exchange (GCOX)
Board Advisor
BnkToTheFuture.com
Board Advisor
ICOmax
Board Advisor
Friendz
Advisor
Vaultbank
Investment & ICO Advisor
Genie ICO
Investor
WePower Network
Board Adviser
The NAGA ICO
Board Adviser
Coinme
Advisor
Cappasity Inc.
Board Advisor
ICOBox
Investor
Quantstamp Technologies Inc
LDJ Capital (http://ldjcapital.com/) is a multi-family office that invests and manages investments for partners and clients in the areas of hospitality, real estate, energy, pharma, tech, telecom, mobile, entertainment, media, publishing, advertising, compliance services, aerospace, shipping & transportation, and more recently digital assets, such as cryptocurrency and blockchain firms through ICOs.
LDJ Cayman is focused on cryptocurrency, mining, and ICO acquisitions. To seed upcoming ICOs, partner Middle Market Credit also provides corporate market bridge financing.
The firm is involved in Asset Management, Equity Financing and Debt Financing and Placement, Mergers & Acquisitions, Corporate Partnering and Strategic Alliances, Restructuring and Workouts, Startups and Management, and Alternative Finance Strategies.
LDJ Capital has 3 subsidiaries:
1. LDJ Capital Group: Victoria Partners, LDJ Venture Capital, LDJ Hedge Fund,  LDJ Media Fund, LDJ Capital Advisory, and LDJ Capital Investment Bank.
2. LDJ Real Estate Group: Acquisitions, Developments, and Hospitality
3. The Soho Loft Media Group: Times Impact Publications, The Soho Loft Conferences, and Victoria Global Communications. Times Impact Publications include the digital publications: The Soho Loft News, Family Offices Today, and Times Realty News.
http://www.ldjcapital.com
https://www.linkedin.com/in/ldjcapital/