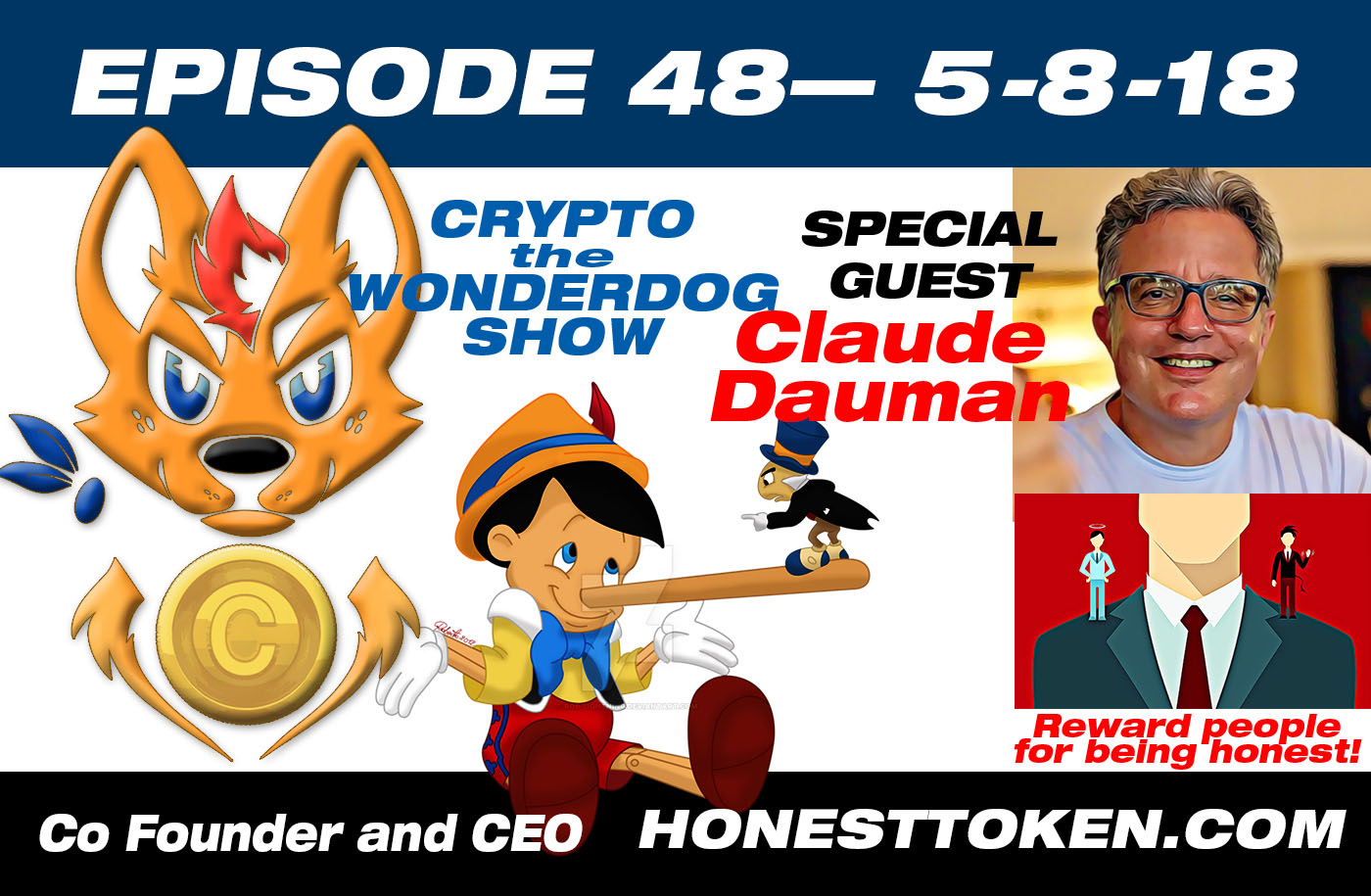 E47 - Can you reward people for their honesty and good deeds, through the blockchain? Honestly we cannot tell a lie, Yes!
Claude Dauman
Co Founder and CEO
Honest Token
Honest Token is a novelty token created with the best of intentions… Rewarding people for their honesty and good deeds.
With a low total circulating supply of just 4MM Honest (HON) ERC20 tokens, Honest Tokens are a rare and unique expression of gratitude.
That being said, if you intend to acquire a boatload of Honest Tokens, with the expectation of moonshots and Lambos, please don't do so without first consulting with a professional investment advisor.  It's quite likely that they will discourage you from doing so…  We're just being honest.
Follow us on Telegram for news, updates and token giveaways in the near future!
Honest Token is a decentralized platform developed on the Ethereum blockchain network.  You can send Honest Tokens to anybody with an ERC20 compatible wallet.
Honest Token allows you a new way to offer a token of your appreciation for honesty and good deeds.  Honest Token is not intended to be utilized for investment purposes… Just for acknowledging and rewarding honesty, and acts of kindness, with Honest Tokens.
Honest is the brainchild of Claude Dauman. Claude is an Internet pioneer, having launched his first successful online businesses way back in 1996! Claude sees the blockchain and distributed ledger technology as the natural evolution  of the Internet revolution.
Claude has been an active member of the online community for over 20 years, having launched my first online businesses in 1996. One of those businesses, an online apparel retailer, grew to become a leader in it's field. Claude sold his online apparel business in 2010.
Claude offers highly personalized website development services and boutique domain name brokerage services to a select group of clients. 
As a young man, Claude was selling homes and apartment buildings, to the rich and famous, from a boutique real estate office in Beverly Hills. 
He moved from real estate to Point of Purchase advertising, where he could better utilize my creativity and vision. They were responsible for the creation and roll outs of a number of very successful international in-store advertising programs.
The skills garnered during his years in high-end real estate, along with my in-store marketing experience, have been instrumental in the success of his online ventures. 
Since 2010, Claude has been focused on online marketing and website development. 
His company offers website development, online marketing and social media consultation to a select group of clients. They serve large corporations and small business owners alike.
Specialties: Online marketing, visual branding, website development, domain name strategies, POP advertising, permanent displays, fixtures.
Honest Token
A division of Matrix Innovations, Inc.
9663 Santa Monica Blvd., #186
Beverly Hills, CA 90210
honesttoken.com
https://www.linkedin.com/in/domains90210/
info@honesttoken.com
https://www.facebook.com/HonestToken/
https://twitter.com/HonestToken
https://www.reddit.com/user/HonestToken/
https://t.me/joinchat/AAAAAE_fLhiR44SqeVTjCw
urbanfarming.org/