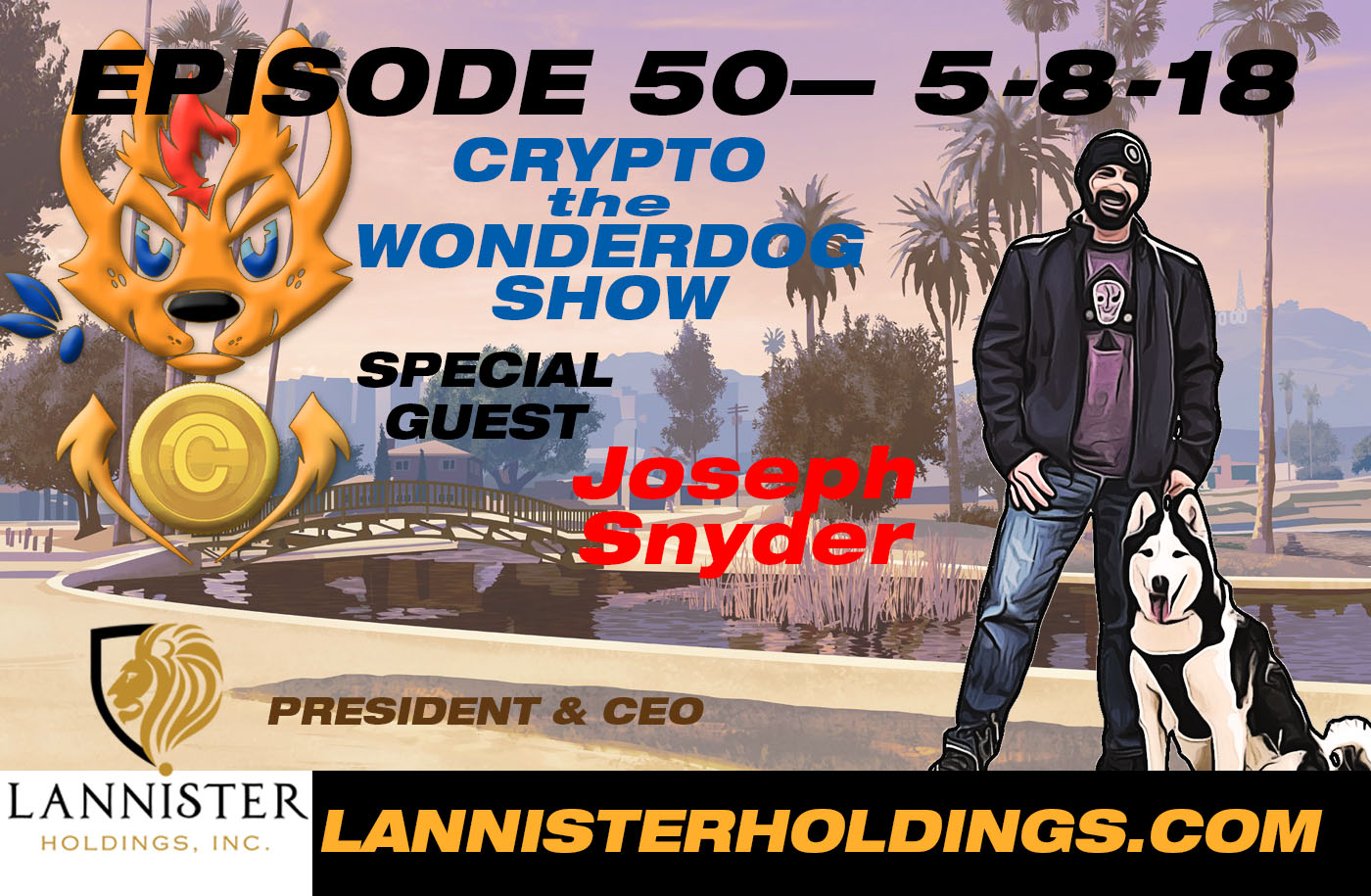 E50 - How Lending can become decentralized with blockchain technology by Lannister Holdings
Joseph Snyder
President & CEO
Lannister Holdings, Inc.
Developing Blockchain Tech
World Class, US Based, Publicly Traded (OTC:NBDR)
A serial entrepreneur, Joe has successfully initiated, built, scaled, acquired, merged, and exited multiple companies over the last 15 years. Stemming from a childhood fascination with business, finance, and the challenges of scaling from idea to profitable operations, Joe's experiences in real estate investment, financial services, and digital strategy are the foundation of the structure and ideas outlined in our business plan.
Joe has a unique set of long term business experiences that provide Lannister Holdings with a strong, on the ground operations focus with a clear "mile high" view of the intricately linking systems and challenges associated with growing and scaling our vision.
Coming from a strong entrepreneurial foundation, Joe built his initial wealth investing in Real Estate, First Lien Notes and Financial Services. With millions of dollars in real estate transactions completed, Joe has bootstrapped businesses in Financial Services, Risk Management, Digital Strategy, Consulting and Investing with a focus on Mergers & Acquisitions. All of these disparate lessons and experiences have brought Joe to the creation of Lannister Holdings with a focus on lean operations, stakeholder engagement, profitable multilayered monetization and world class scaled business development.
As an experienced Sales & Finance Executive Joe is keenly aware of the challenges associated with initiating internal systems and procedures, identifying and inspiring world class staff, engaging with regulatory bodies, building integrated investment, brand and product messaging within a highly competitive and regulated space.
Lannister Holdings, Inc.'s goal is to generate scaled revenues and strong company value growth by developing, owning and delivering proprietary technology to the financial sector, providing access to high return loans to  various real estate investors  as well as providing blockchain development and strategy services to outside partners and clients. We will use the functionality of blockchain technology to facilitate mortgage loans in a secure, digital environment for real estate investors, tenants, property managers and real estate note purchasers.  This allows for technological superiority in the real estate lending world, as well as burnishing the public perceptions of blockchain security, and above all, trust in smart contract lending. Lannister Holdings will soon replace the exhausting step-by-step paper and pen approach lending professionals have floundered within for years with its lending platform that will be the next revolution in lending technology.
Lannister Holdings, Inc, is a publicly-traded full stack blockchain development and consulting company with an internal focus on developing our real estate lending platform while legally protecting the intellectual property for our proprietary technologies. Lannister Holdings, Inc. is developing their proprietary blockchain platform to facilitate mortgage lending, bundling, securitizing on blockchain. Transacting loans via the blockchain guarantees ultimate transparency, risk mitigation and security.
Through Lannister Development our blockchain dev teams are available to clients in verticals such as logistics, energy, manufacturing, healthcare and more putting Lannister Development in a powerful position as a US based full stack blockchain, smart contract & security auditing firm. Our agile, remote work ideology delivers intuitive solutions to complex problems by allowing our teams to mindfully and creatively solve problems and create solutions to achieve a clients true desired result.
iTUNES: https://itunes.apple.com/us/podcast/crypto-the-wonder-dog/id1342426584#
YouTube - https://www.youtube.com/c/CryptoTheWonderDog
SPOTIFY: https://open.spotify.com/show/1SaoepNZDYX75CeN3RouFD
PODCAST PAGE - http://cryptocent.podbean.com
WEB - Cryptothewonderdog.com
TWITTER - https://twitter.com/CryptoCTWD
FACEBOOK - https://www.facebook.com/CryptoTheWonderDog/
INSTAGRAM: @cryptothewonderdog
BLOG: https://cryptothewonderdog.blogspot.com
FEED: http://cryptocent.podbean.com/feed/
LinkedIn Group: https://www.linkedin.com/groups/13579876
Telegram: https://t.me/joinchat/HXYr-1E8iFne2LLgfEwe2A