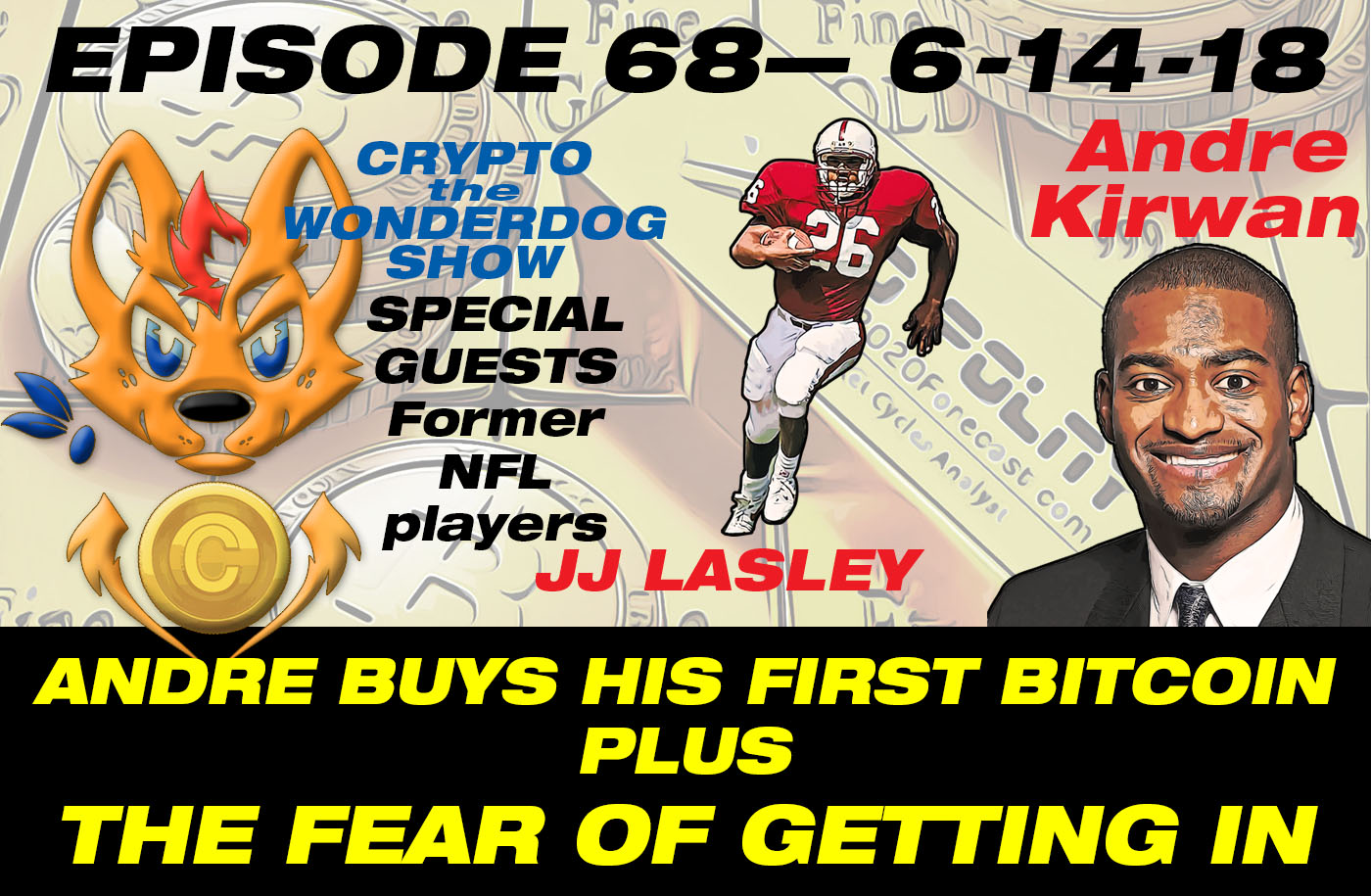 E68 - Facing the FEAR of Buying Your First Bitcoin - Former NFL Athlete Andre Kirwan and JJ Lasley
Andre Kirwan - Executive Vice President/Director of Player Development
Andre was a professional football player/wide receiver for the National Football League and Canadian Football League from 1997 – 2004.  While playing for the Toronto Argonauts as a starter, he helped them to win a Grey Cup Championship in 1997 as a rookie catching passes from QB's Doug Flutie and Andre Ware.  While in camp with the 49ers, he was amongst Hall-Of-Famers, Steve Young and Jerry Rice.  Andre is a 1996 graduate of Stanford University in Palo Alto, California, and holds a B.A. in Human Biology.  In May 2013, Andre was awarded his Executive MBA from The University of South Florida, graduating with high honors and a 4.0 GPA in the nation's top percentile of students which earned him recognition in the International Beta Gamma Sigma Honors Society.  He is currently the varsity wide receivers coach for Berkeley Preparatory High School in Tampa, Florida and is the owner of AthElite, where he trains/oversees the development of many NFL and CFL prospects.
Andre is extremely involved in community service and has been for many years.  He has demonstrated a deep and heartfelt commitment to improving lives in the Tampa Bay Area.  He is the founder of No Strings Attached, a homeless ministry established in September of 2007, which spends every Thanksgiving and Christmas mornings handing out clothing and personal items collected to the homeless.  He was profiled by the Tampa Tribune as a "Hometown Hero" in December of 2012 for his efforts with the cause.  Andre was the volunteer Youth Pastor for his church, Morningstar Church for 8 years,  In addition, Andre is the President of Warrick Dunn Charities, where he has served on the Board of Directors since 2008.  He has also served on the Board of Directors for the YMCA Community Initiatives Board and is the Finance Chair as a member of the St. Joseph's/Baycare Hospital Board of Trustees.  Andre was honored by the Tampa Organization of Black Affairs with the "Un-sung Hero Award" in January 2013, and the George Edgecomb Bar Association's Community Service Award in April 2013.  In Jan of 2014, he received a $50,000 Community Hero Award from The Tampa Bay Lightning and their owner, Jeff Vinik for his work with this ministry, which was donated across 5 local non-profit agencies.  Andre grew up in Tampa since 4th grade, and was a graduate of Jesuit High School in 1992. 
FFL
iTUNES: https://itunes.apple.com/us/podcast/crypto-the-wonder-dog/id1342426584#
YouTube - https://www.youtube.com/c/CryptoTheWonderDog
SPOTIFY: https://open.spotify.com/show/1SaoepNZDYX75CeN3RouFD
PODCAST PAGE - http://cryptocent.podbean.com
WEB - Cryptothewonderdog.com
TWITTER - https://twitter.com/CryptoCTWD
FACEBOOK - https://www.facebook.com/CryptoTheWonderDog/
INSTAGRAM: @cryptothewonderdog
BLOG: https://cryptothewonderdog.blogspot.com
FEED: http://cryptocent.podbean.com/feed/
LinkedIn Group: https://www.linkedin.com/groups/13579876
Telegram: https://t.me/joinchat/HXYr-1E8iFne2LLgfEwe2A
Crypto the Wonder Dog is now looking for the TRUTH when it comes to Cryptocurrencies and BITCOIN, Digital Currency... What to look out for, where to buy, trade, invest, loan, mine.... OMG!! Too much for 1 person to do this alone. I want t start a channel where we work together to learn as possible without getting burned. Please contribute what info you have.