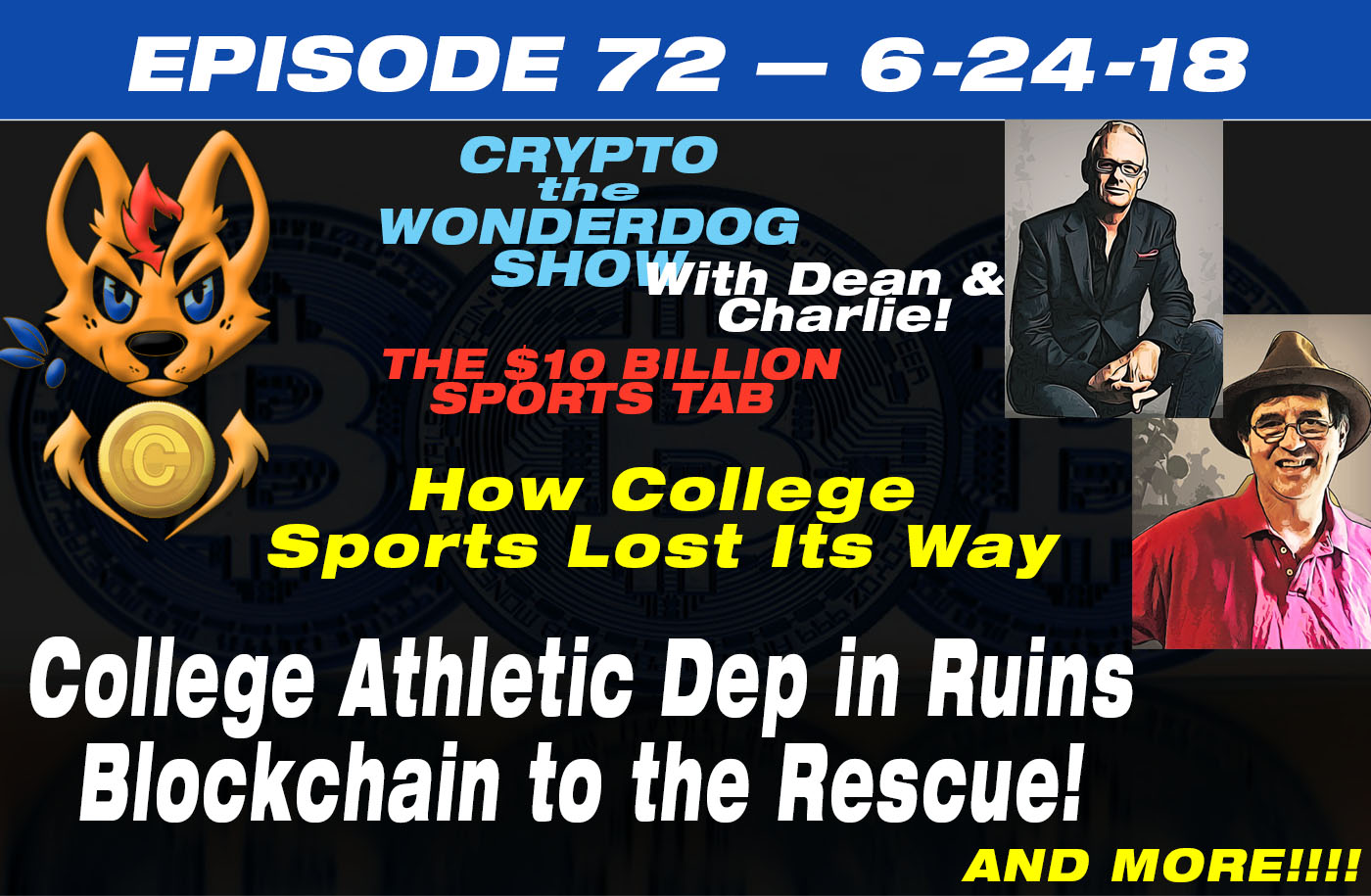 6-24-18 E72 - College Athletic Department's in Ruins - Blockchain to the Rescue
1. The $10 Billion Sports Tab: How College Are Funding the Arms Race: The Chronicle of Higher Education
https://www.chronicle.com/interactives/ncaa-subsidies-main#id=table_2014
2. How College Sports Lost Its Way - Brookings Institution
https://www.brookings.edu/book/unwinding-madness/
D1 divided into two branches. 1. Football Championship Subdivision (FCS), composed of smaller institutions, such as Illinois State, Cornell, University of Delaware. 2. Football Bowl Subdivision (FBS) The Big Boys.
In 2013-14, only 24 D1 programs, or 19% of the FBS schools, made a profit. In that same time frame, the median operating loss was $14.7 million. The FCS, or smaller schools, are in far worse shape. No FCS athletic department made a profit.
3. Colleges Are Spending Way Too Much on Athletic Programs but students and athletes don't really benefit. 4/11/2016
http://news.bitofnews.com/colleges-too-much-athletic-programs/
4. Has Spending Become Out of Control for NCAA Athletic Departments? 5/22/14
https://www.thechampaignroom.com/2017/5/22/15659242/out-of-control-spending-ncaa-college-athletics
Synopsis: Cost of travel, tuition,and other costs have increased from 2004 ($2.6 billion) to 2014 ($4.4 billion) for Power 5 programs, which are the most powerful athletic programs in the country.
In 2016, attendance and ticket sales fell again, making it the sixth straight year college football has seen a decline in attendance.
ESPN paid 4470 million per year for 12 seasons to air the College Football Playoff. But their subscriptions peaked at 100 million in 2011, and that number has fallen by 12 million up to last year, and the trends indicate a continued fall.
5. Washington State Athletic Department Projects a $67 Million Hole.
http://www.spokesman.com/stories/2018/apr/27/washington-state-athletic-department-in-67-million/
6. Athletics Mess Threatining UNM/Albuquerque Journal
https://www.abqjournal.com/1151469/athletics-mess-threatening-unm.html
7. Louisville Faces "Perfect Storm" Of Academic Problems and Sports
http://www.kentucky.com/news/local/education/article176102296.html
8. Horning: What Will Sooner Athletics In An Age Of Belt Tightening Look Like?
http://www.normantranscript.com/sports/local_sports/horning-what-will-sooner-athletics-in-an-age-of-belt/article_0b632f6e-065d-5c74-9e6e-06ff958b2c70.html
Synopsis: OU faces $1 billion in debt for building projects which the university cannot afford. Despite the fact that the OU Athletic Department is making money, the following video shows what it costs to put a top tier football team on the field.
9. YOUTUBE Oklahoma Football Facility Tour
https://www.youtube.com/watch?v=hMvru1j4tp8
10. So where is this all leading us? According to a Harvard Business School professor, half of US College will be bankrupt in 10 to 15 years.
https://www.cnbc.com/2017/11/15/hbs-professor-half-of-us-colleges-will-be-bankrupt-in-10-to-15-years.html
Blockchain may be the only solution to keep any athletic department operating....
iTUNES: https://itunes.apple.com/us/podcast/crypto-the-wonder-dog/id1342426584#
Irish Tech News - https://irishtechnews.ie
YouTube - https://www.youtube.com/c/CryptoTheWonderDog
SPOTIFY: https://open.spotify.com/show/1SaoepNZDYX75CeN3RouFD
PODCAST PAGE - http://cryptocent.podbean.com
WEB - Cryptothewonderdog.com
TWITTER - https://twitter.com/CryptoCTWD
FACEBOOK - https://www.facebook.com/CryptoTheWonderDog/
INSTAGRAM: @cryptothewonderdog
BLOG: https://cryptothewonderdog.blogspot.com
FEED: http://cryptocent.podbean.com/feed/
LinkedIn Group: https://www.linkedin.com/groups/13579876
Telegram: https://t.me/joinchat/HXYr-1E8iFne2LLgfEwe2A