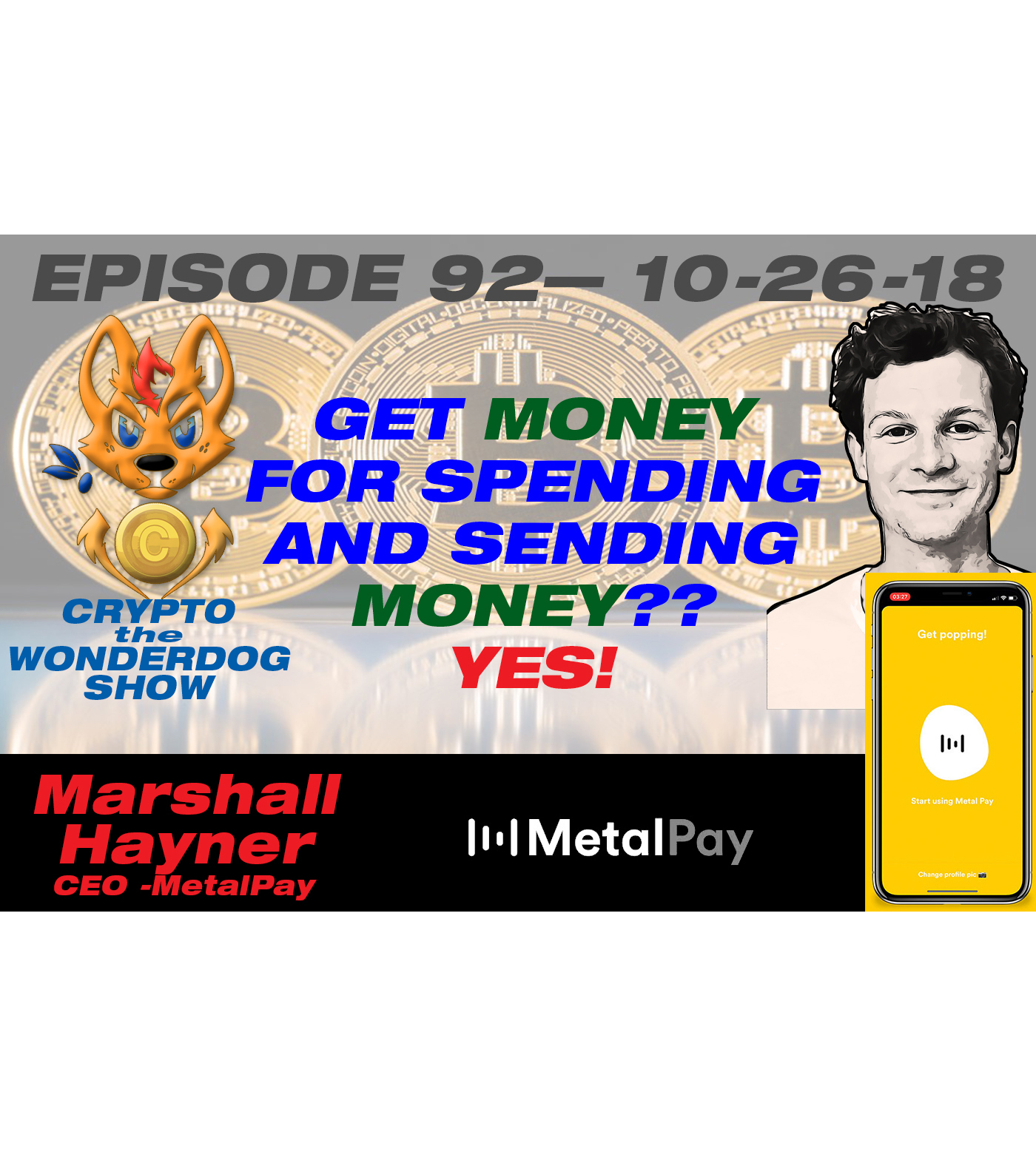 E92 - How you can earn cryptocurrency when you shop or pay your friends? YES! Metal Pay!
Marshall Hayner
CEO and Co-Founder, Metal
Marshall Hayner is CEO and Co-Founder of Metal, a payments processing platform that pays people cryptocurrency for making transactions on the blockchain. Marshall believes that Metal can change the way the world views money. Not only has Marshall started the first Facebook integrated bitcoin wallet called QuickCoin in 2014, but he has worked on numerous digital currency projects including Dogecoin, Stellar, Block.io, ChangeTip, and the Bitcoin Fair. Marshall is an advocate for social good and has started the Metal Foundation to promote social causes through cryptocurrency. 
Metal Pay and the sister app Crumbs (a platform that allows consumers to round up credit and debit card purchases to invest in a cryptocurrency portfolio), aim to bring crypto adoption to the mainstream, by incentivizing users to earn, use, store, transfer, and invest in cryptocurrencies in a fun and educational manner.
As the 10 year anniversary of the release of the Satoshi white paper approaches, it's worth noting that the crypto landscape remains confusing and at times, intimidating, to the average consumer (which I feel largely encompasses your show's audience). Functioning similarly to Venmo or Square Cash, Metal Pay adds an element of incentivisation in order to help the general public find a entry point to crypto, while earning up to 5% of the total fiat transaction back in the network's native token, MTL. For your reference, both Metal Pay and Crumbs are currently available to download from the iOS app store in 34 states — please download and play around with the apps! 
CEO and Founder Marshall Hayner 
https://www.metalpay.com
https://www.linkedin.com/company/metalpaysme/
https://www.linkedin.com/in/marshallhayner/
https://block.io
bitcoin, bitcoin price, blockchain, decentralized, altcoins, coinmarketcap, blockchain, litecoin, bittrex, bitcoin mining, buy bitcoin, btc, bitcoins, hard fork, hashflair, gigahash, terahash, bitcoincash, XRP, BTC, BCC, LTC, litecoin, ETH, ethereal, erc20,