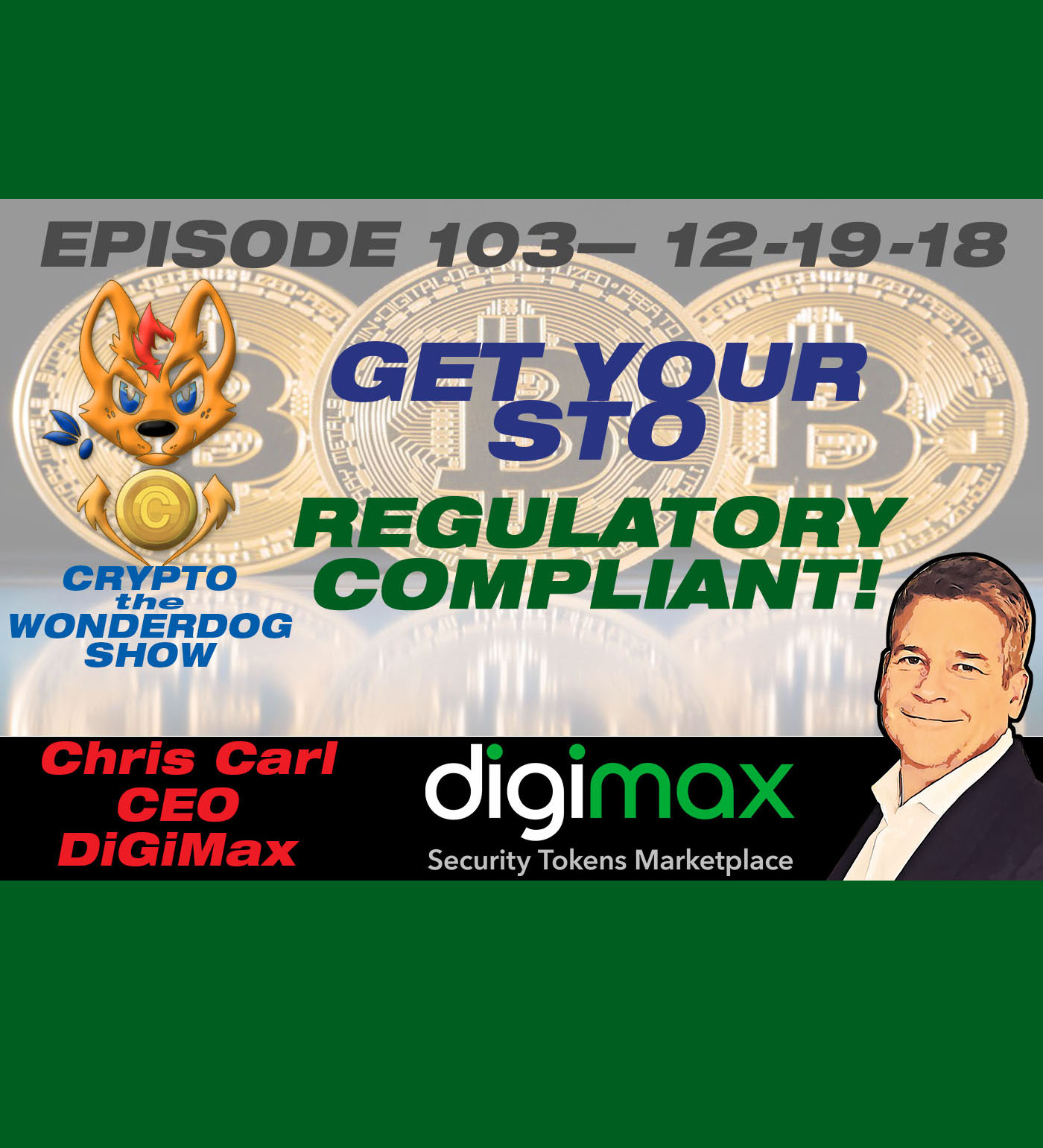 E103  - How To Get Your STO Regulatory Compliant - Digi Max & AirDrops with Flyerdrop
The regulatory-compliant platform for high-quality ICOs and qualified investors - DigiMax
Chris Carl
Regional Director at The CFO Centre Limited & CEO of DigiCrypts Blockchain Solutions Inc. and DigiMax
Founder, CEO
Toronto, Canada
Over 20 years as a public-company, entrepreneurial CEO successfully creating massive shareholder value in US, Canada and Europe
Proven ability to provide a global vision followed up with strong COO-type execution skills
Strong track record of raising substantial amounts of capital for young companies
Highly successful in negotiating partnerships with Fortune 500 size companies
Extensive experience with Boards and speaking in public environments
Work History
8 years with #11 Fortune 500 Company, Tenneco Inc.
Built and operated two $70 million manufacturing facilities
10 years as CEO of CanFibre Ltd. developing technology from lab at UBC in Vancouver to completing two $125 million facilities in US
Attracted three Fortune 500 size companies as partners
As CEO, listed on AMEX in New York , raised US$250 million with Merrill Lynch attaining US$400 million market cap in 1998
9 years as CEO developing BioExx Specialty Proteins Ltd. – a protein extraction technology from lab-scale to $100 million food-certified plant
Listed on TSXv then TSX attaining $600 million market cap
Awarded #1 in Top 50 TSXv managed companies in 2010
3 years running Foundation Investment Capital Corp. – a boutique venture capital and advisory company helping small public and soon-to-be-public companies establish foundation required to become successful
1 year as Regional Director for The CFO Centre based in Toronto – finding solutions and growth for SME's using part-time, successful and highly experienced CFO's
Honour's B. Comm, Queen's University, Kingston ON - 1984
A finisher, customer driven, and a motivating team leader who challenges the status quo to deliver high quality results to maximize all scorecard metrics. 
Encourages lively and vigorous debate listening to diverse opinions while building consensus and stakeholder engagement. 
Eliminates complexity and optimizes the use of technology to magnify the competitive edge through continuous improvement of processes, and the entire organization.
DIGI Max is the world's first complete, 100% regulatory compliant platform for investment and information of regulatory-compliant, security-based Initial Coin Offerings offered in the world.
DIGI Max platform for any startup token that is Regulatory Authority Compliant
DIGI Max is the first and the only platform that allows investors or traders to get potentially profitable information for startup tokens, at the same time having access to information to allow voting. Thereby making decisions together with the founders of the startup.
Flyerdrop is a unique service for the distribution of security token information through the largest blockchain conferences. Any regulatory-compliant startup can publish a certain number of flyers, which will be printed and handed out to potential investors. Members can immediately make better buying decisions form this information.
DAO ICO
Participation in startup investment management by voting


 

Valuation of tokens
Better information results in better price discovery for D startup tokens in the early stages

Guarantee of investments
Startups will not be able to spend more needed at each stage of their development
DIGI Max is the platform which delivers fair dynamic tracking of startups, marketing activity and progress of the whole project, through regular disclosure of information. 
The result of more regular disclosure will be more fairly valued tokens. Marketing products such as Airdrop and Flyerdrop, will better provide regularly updated statistics of startup activity.
https://digimax.global
https://docs.google.com/forms/d/e/1FAIpQLSfdK88jSbSgFOZ0mFW_7I43CtBiaIxwrzD97lpS8HbX_j1x4w/viewform
https://www.linkedin.com/in/chriscarltoronto/
https://www.linkedin.com/company/icomax/